Select one of the colour, all inspired by nature:
Select one of the colour, all inspired by nature: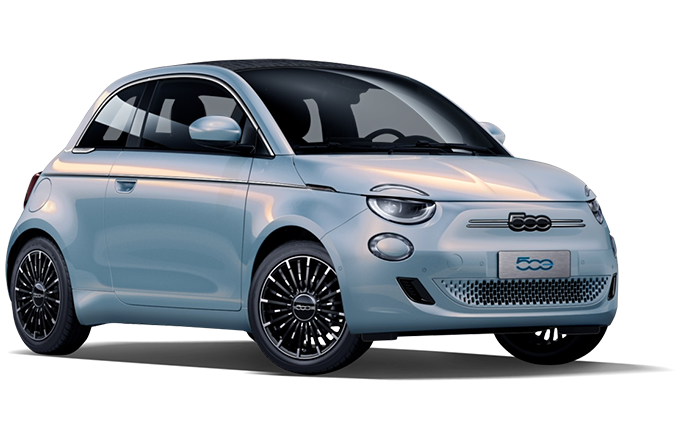 EXTERIORS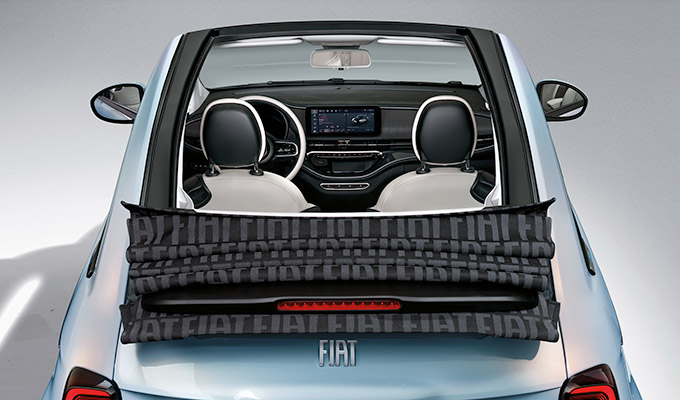 PANORAMIC SUNROOF
Invite the sky inside: glance up at the stars or welcome in the natural light whenever you're on the road.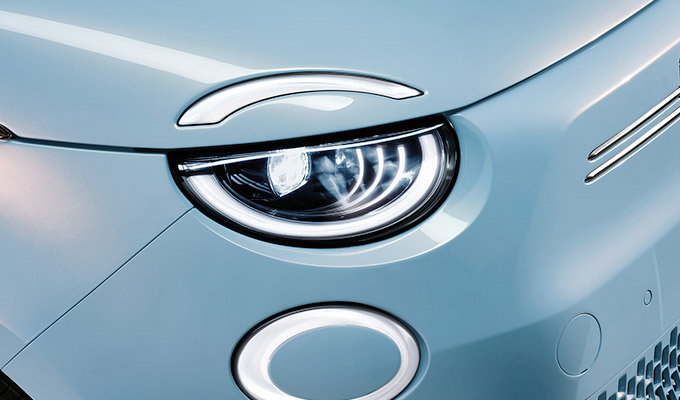 SHED A LIGHT ON TOMORROW
The full LED Light with 'Infinity' signature provides a clearer perspective on the road ahead, with a renewed but always recognisable 500 look.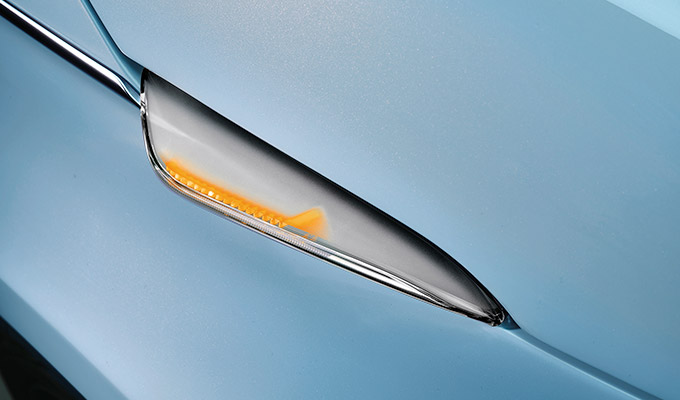 FROM THE PAST TO THE FUTURE
We wanted to create a modern car that still paid tribute to our heritage; or more specifically, to the iconic style of the 1957 Fiat 500. The LED side arrows represent the same forward-thinking spirit that drove us then, and continues to guide us now.
CONVENIENCE FROM THE FIRST TOUCH
The redesigned electric door handle with an e-latch system is more streamlined and simpler to use than that of any other 500. Simply push the soft button on the inside to unlock the car.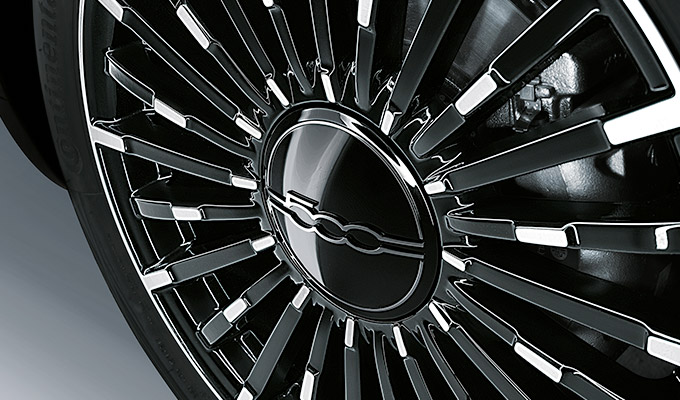 17" ALLOY WHEELS
Iconic from top to bottom, the 17" alloy wheels have a bi-tone diamond finish.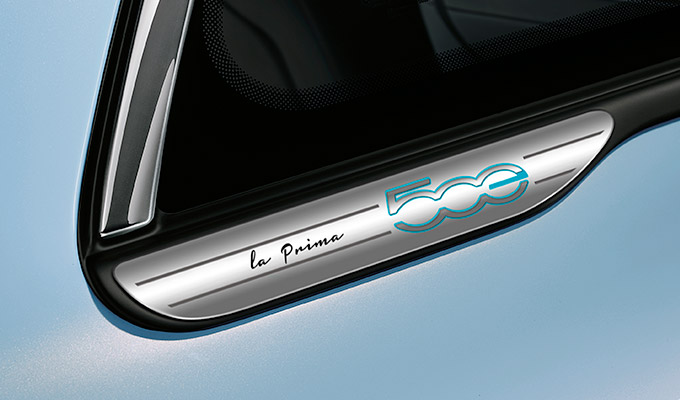 DEDICATED BADGE
Because being the first electric car produced by Fiat is definitely something to be proud of.
INTERIORS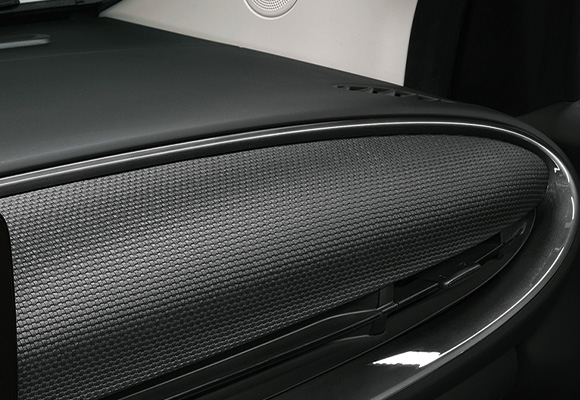 DASHBOARD
The eco-leather wrapped dashboard fascia marks an evolution in design, geared towards a more sustainable future.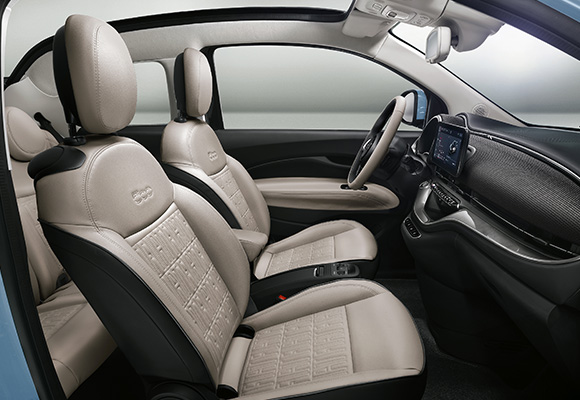 LIVE A NEW SPACE
The internal room revolution starts from the absence of the central tunnel, making way for more spaciousness and comfort.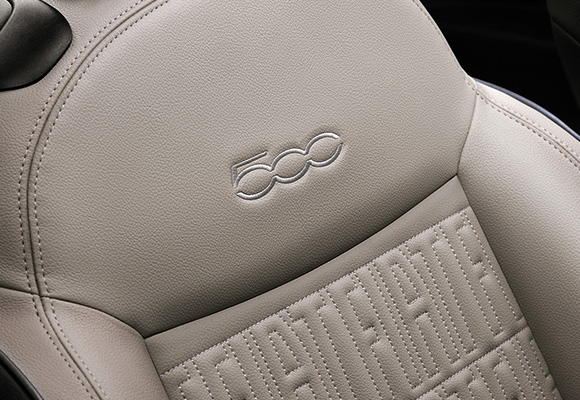 ECO-LEATHER SEATS WITH MONOGRAM
Eco-leather and embossed with the Fiat monogram detailing, the new «la Prima» Convertible's seats are highly adjustable with a 6-way regulation. The new style of seats match a more sustainable design with elegance and comfort.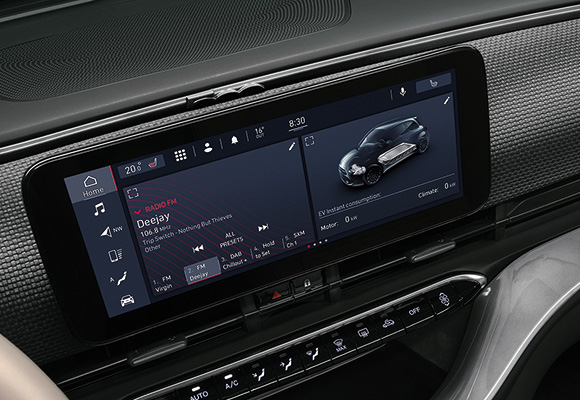 10.25" INFOTAINMENT SYSTEM WITH NAVIGATION
Listen to music, navigate and connect your devices. Smartphone-like interface on a 10,25" touch screen, fast Bluetooth connection, compatible with wireless projection systems: the ultimate infotainment experience.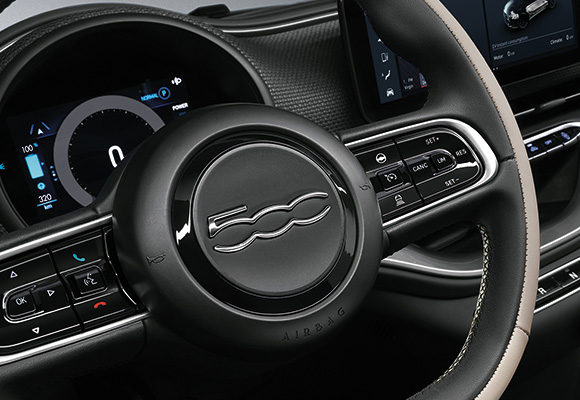 ICONIC SIGNATURE
The signature 500 badge adorns the steering wheel, reshaped to recall the iconic style of the two-spoke wheel in the original 1957 Fiat 500.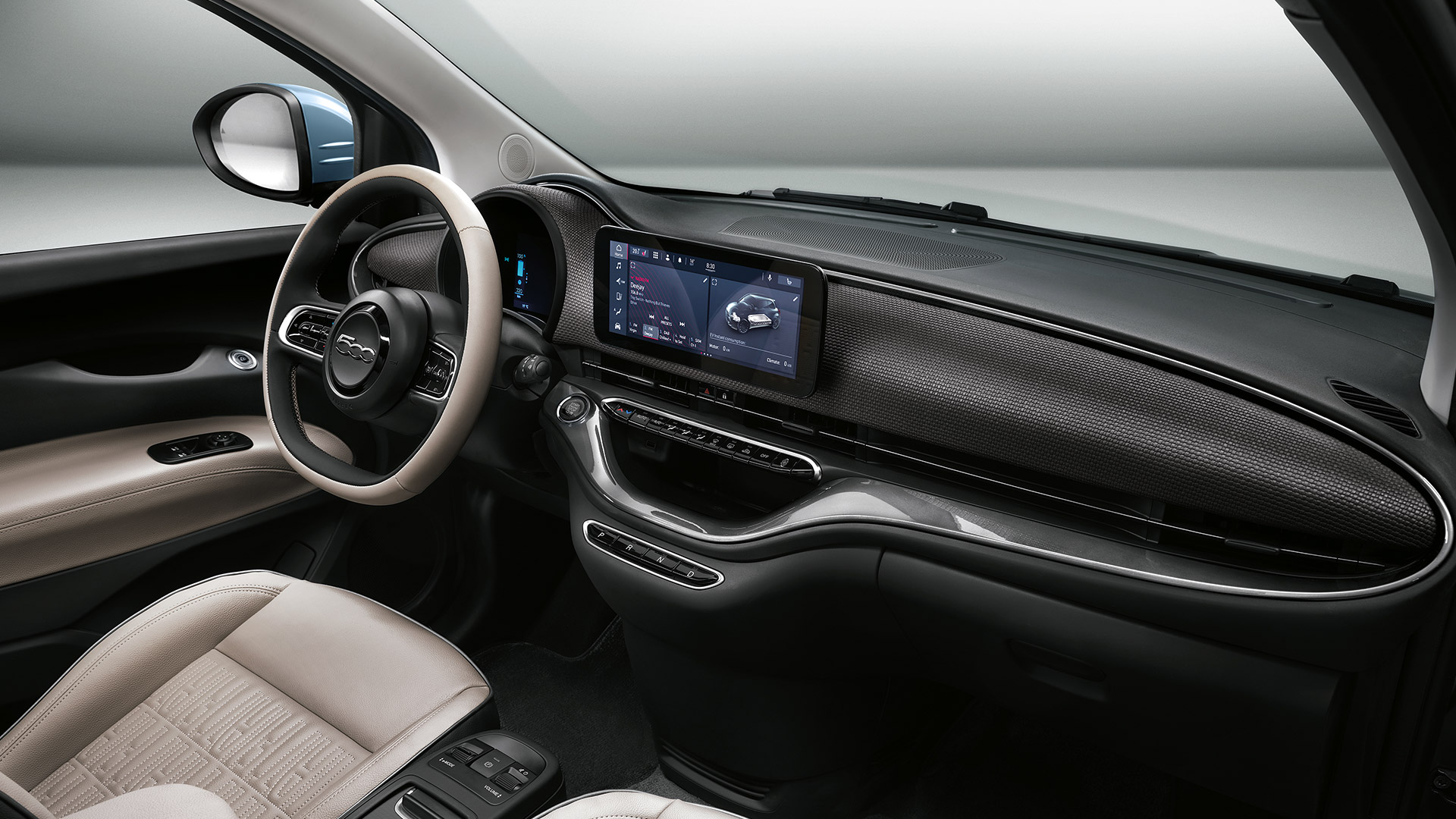 ELECTRIC FEATURES
CRAFTED FOR THE CITY
Range autonomy covers your daily commute in the city: travel to work, stop off at the gym and head home again within the up to 185 miles range, extending up to 267 miles with urban cycle* when used purely for urban driving.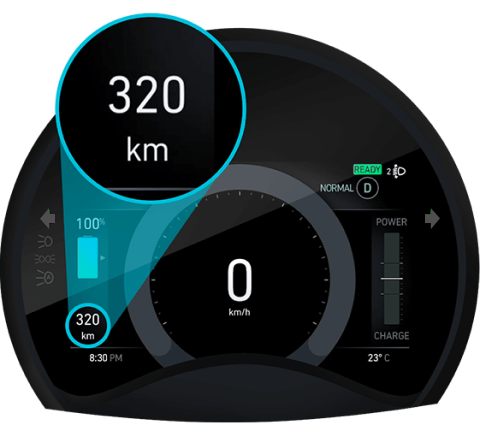 SHERPA MODE
Activate 'Sherpa Mode' to save energy while optimising your car's parameters, including mobile charger and air-conditioning, or limiting speed and acceleration.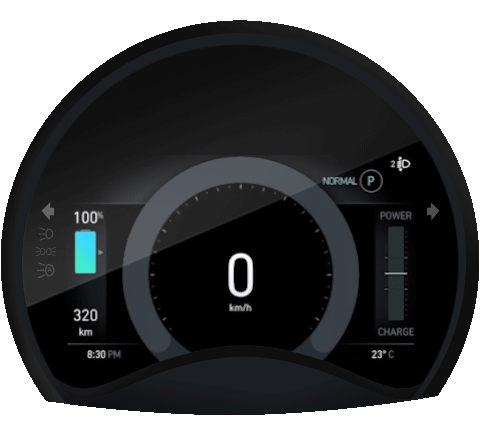 FAST CHARGING
The all-new 500 «la Prima» Convertible can be fast charged at 85 kw, allowing a full day driving in the time it takes for a coffee break time: 30 miles from a 5 minutes charge, and 80% of full battery charge in 35 minutes.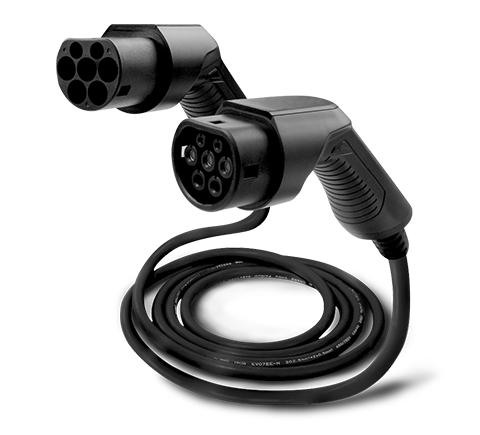 ONE PEDAL DRIVING
The all-new 500 «la Prima» Cabrio is one of the first electric cars to offer a new driving experience using the right-hand pedal both to accelerate and decelerate. Any time the driver lifts the right foot from the pedal the car slows down, then converts and recovers kinetic energy to generate electric power and recharge the battery.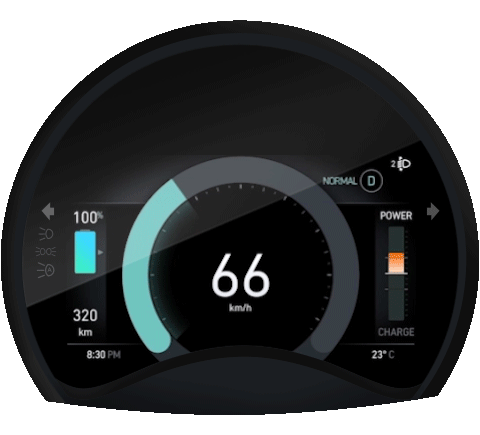 AN EXCLUSIVE WALLBOX
The optional easyWallbox has been designed exclusively for FCA to create your personal charging point at home. All set with the "Plug & Play" technology which requires no professional installation and a Bluetooth connection, for settings and checking operating parameters ). The easyWallbox has a Dynamic Power Management (DPM) sensor to prevent blackouts in the house and if you upgrade up to 7.4kW (with a professional installation), the all new 500 «la Prima» hatchback will recharge in in less than 4 hours*. *charging times 15-80% SoC.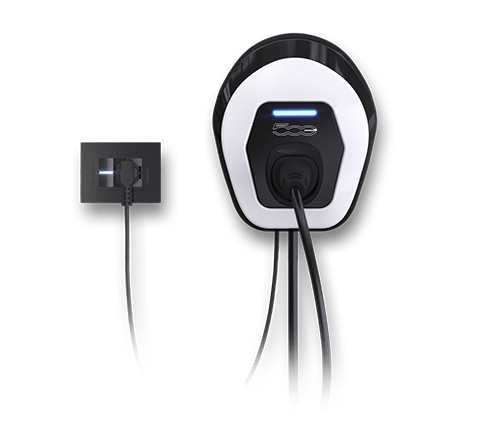 CONNECT AND CHARGE
The Connected Wallbox is the advanced home charging solution which features remote connectivity and can also work on three phase systems, up to 22 kW. With the Connected Wallbox you can start and control charging sessions via Bluetooth, Wi-Fi and 4G/3G, manage energy, know who is using the Wallbox, optimise costs and much more. Installation services are provided by FCA
* Values refer to the complete all new 500 range.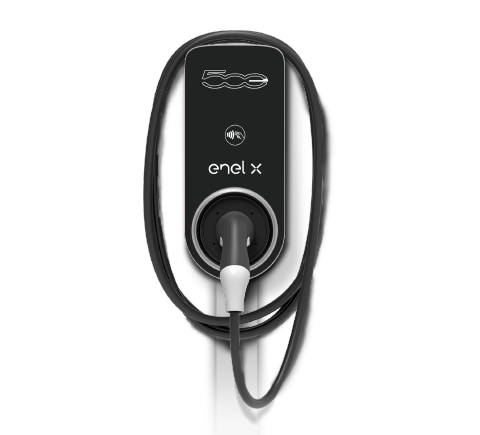 FOR AN EASY CHARGE OUT OF HOME
No worries if you are not at home: you will be able to use the included Mode 3 Cable to charge you all new 500 «la Prima» cabrio at public stations and parking spaces.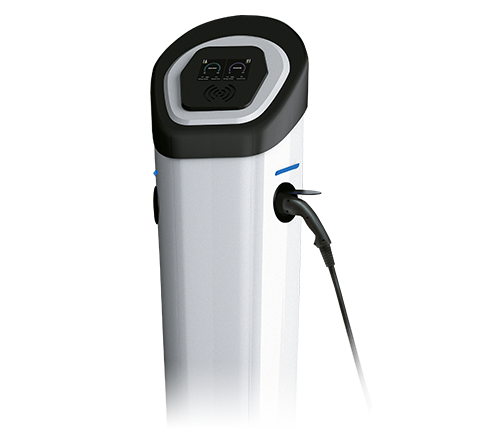 TECHNOLOGY
A trusted co-driver: the all-new 500 «la Prima» Cabrio is the first small electric car to bring Level 2 Autonomous Driving (ADAS), which means a superior level of safety and security when you're on the road.
FIAT CO-DRIVER
Travel safely, smoothly and intuitively with Fiat Co-driver. Thanks to ADAS, the all-new 500 «La Prima» can read the road signs and suggest you what speed you should drive at on that specific road. Then, once you have set the speed and distance from the steering wheel buttons, the system will autonomously keep the distance from the vehicle in front of you (when over 37 mph) and will stop when the traffic requires it. Like a reliable co-driver, the 500 «la Prima» Hatchback always has your back.
KEEPS YOU ON TRACK
Travel safely in your own lane. When you are driving at over 37 mph, the all-new 500 «La Prima» Hatchback helps to prevent you from accidentally drifting across road lines, autonomously keeping you at the centre of your own lane and protecting you and other drivers from danger. When the system detects that the vehicle is about to unintentionally drift out of its lane, it warns the driver via visual, audio and haptic signals (a vibration in the steering wheel), in order to counter-steer as necessary.
EASIER PARKING
When you slow to under 8 mph and prepare to park, the 360° view-parking sensors with 11 sensors placed on the front, side and rear fascia of the all-new 500 «la Prima» Hatchback detect any obstacle around the vehicle, notifying you of object proximity.
NO BLIND SPOTS
Blind spots are a thing of the past. When driving between 9 mph and 87 mph, the all-new 500 «la Prima» Hatchback's ultrasonic sensor is able to detect objects in the blind areas both on the sides and at the rear of the car, and will alert you with an acoustic signal and a light on the side mirror.
REAR VIEW CAMERA
Easily keep an eye on everything - even when it's directly behind you. The rear-view camera transmits a high-resolution image of whatever is behind the car with clarity and sharpness on the all-new 500 «la Prima» Cabrio infotainment display. The image is projected with dynamic grid lines and a center line graphic, which adjusts to guide your path as the steering wheel is turned.
BRAKES FOR YOU
Safer for you and everyone else on the road: the all-new 500 «la Prima» Hatchback brakes automatically to avoid or mitigate collision with other vehicles, pedestrians or cyclists, at up to 80 mph. At first, the car just alerts the driver with an acoustic and visual warning in the instrument cluster; if the driver does not respond, the system activates the vehicle's brakes, helping to avoid or mitigate potential impact.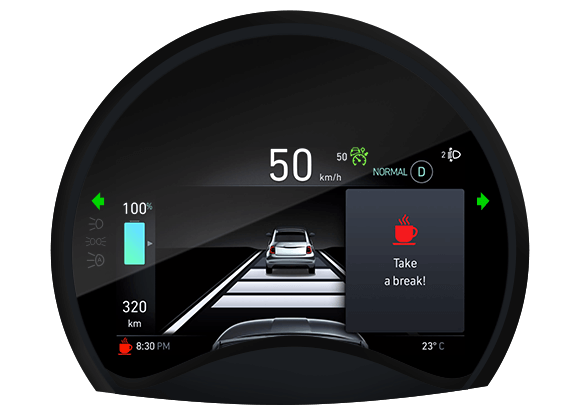 KEEPS YOU AWAKE
Driver fatigue will no longer be a problem, as the all-new 500 «la Prima» Cabrio helps you to stay alert behind the wheel. The system can detect the initial signs of fatigue by monitoring lateral movements of the vehicle, advising you to take a break where necessary via a visual and acoustic warning on the instrument cluster.
LANE DEPARTURE WARNING SYSTEM
Travel safely on your lane, more easily: the all new 500 «la Prima» hatchback helps you to prevent unwilling crossing the road lines, keeping you on track with an active action on the steering wheel and protecting yourself and others from dangers. When the function detects that the vehicle is about to unintentionally move out of the lane, it warns the driver by means of a visual, audible and haptic signal as steering wheel vibration, in order to counter steer accordingly.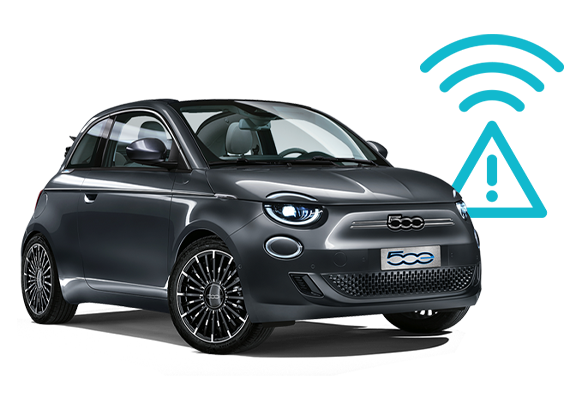 EMERGENCY CALL
Your vehicle always has your back, especially in an emergency. In the event of a severe accident causing the deployment of the airbags, an automatic emergency call will be forwarded directly from a dedicated in-vehicle system to a 112 European Emergency Number. Your position and vehicle status will be immediately transmitted to facilitate a faster rescue, and an SOS button is easily reachable in front of the interior rear mirror; it can be pressed to receive quick help when in need.*
* The system only activates in case of severe accident and airbag deployment.
INFOTAINMENT

The all new Cinerama Infotainment system of the new Fiat 500 «la Prima» Cabrio has a crisp 10.25" display. The ultra-fast Bluetooth pairing connects all the smartphones in the city car.
The system offers an intuitive, easy-to-use customisable interface, in which the driver can arrange the screen-layout according to their personal preference.
The new Cinerama Infotainment comes equipped with a fully integrated Navigation platform, which will become your driving partner to wherever your journey takes you. The system shows drivers up-to-the minute traffic information, refreshed every 30 seconds, including traffic density, speed cameras, parking, EV stations, and destination weather information. The 3D map navigation can be visualized also on the 7" digital cluster.
A natural language speech recognition system allows facilitates interaction with your car - begin by simply saying "Hey Fiat".
You can wirelessly connect your smartphone and project your favourite apps on the big screen. The new 500 «la Prima» also features a wireless mobile charger, so you can stay connected 24/7.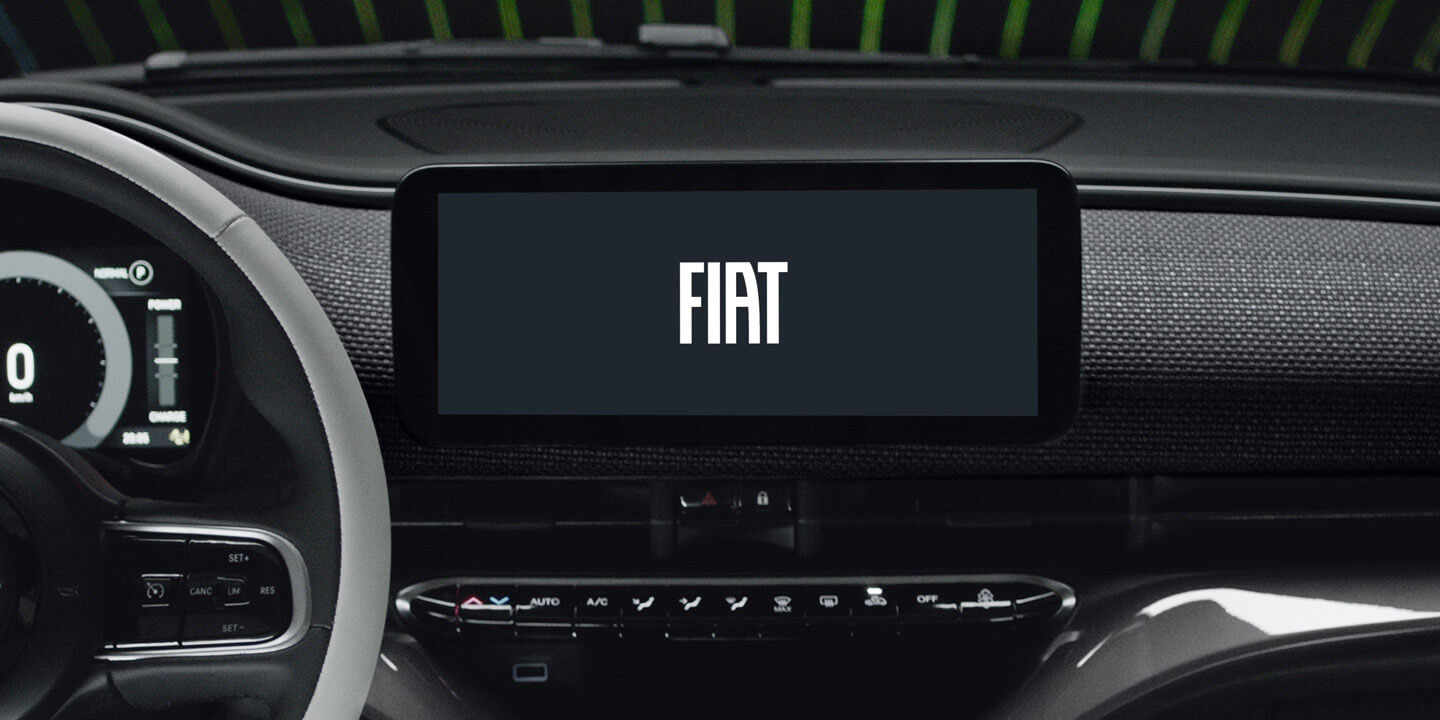 CINEMARA INFOTAINMENT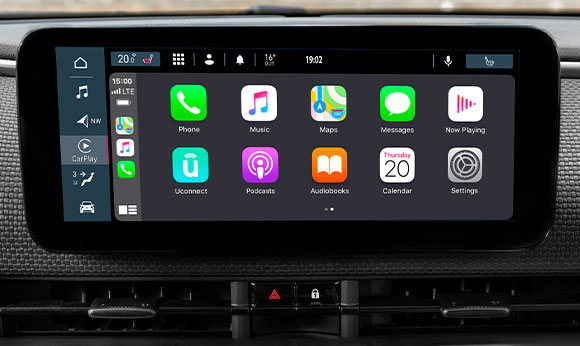 WIRELESS APPLE CARPLAY
Connect your iPhone to the Uconnect™ 10.25" display and control Apple CarPlay wirelessly with Siri voice control or the touch-screen. Wireless Apple CarPlay is the smarter, safer way to use your iPhone in your car. You can get directions, make calls, send and receive messages, and listen to Apple Music, audiobooks or podcasts while still staying focused on the road.
Click here to explore the compatible devices.
CarPlay, iPhone and Siri are registered trademarks of Apple inc.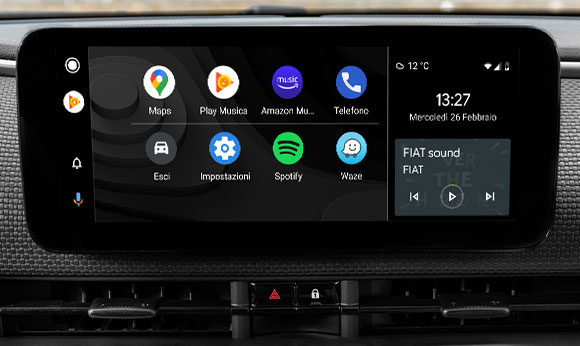 WIRELESS ANDROID AUTO™
The all-new 500 «la Prima» Cabrio is also compatible with Android Auto™ and it can connect wirelessly (with compatible phones). Once your smartphone is connected to the city car, the user-friendly interface displays your apps on the Uconnect™ 10.25" display. You can manage music and contacts, and thanks to Google Maps you can explore maps, traffic conditions in real time, directly from the touch-screen and without putting safety at risk.
Google, Google Play, Android Auto are trademarks of Google LLC.
To use Android Auto on your car display, you'll need an Android Auto compatible vehicle, an Android phone running Android 5.0 or higher, and the Android Auto app.
To use Android Auto Wireless you will need to have one of the following
•Any smartphone with Android 11.0 and a 5 GHz Wi-Fi network. In the European Union, smartphones must meet additional regulatory requirements in order to use the 5 GHz Wi-Fi network in the car.
•Google or Samsung smartphone with Android 10.0.
•Samsung Galaxy S8, Galaxy S8 + or Note 8 phone running Android 9.0.
Click here to explore the compatible devices.
CONNECTIVITY
The all-new 500 «la Prima» Cabrio is equipped with a full range of state-of-the-art connectivity features, both onboard and offboard, including a brand new mobile application. The FIAT app lets you manage the new 500 anytime and anywhere. Discover all the features.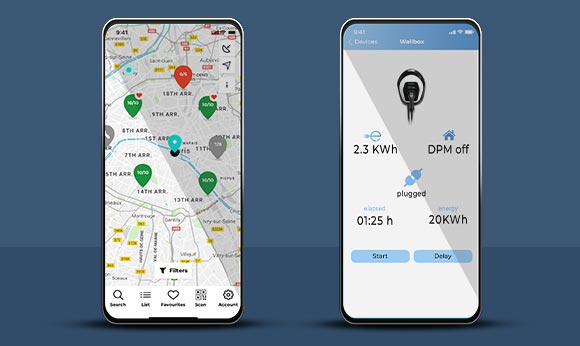 MY ECHARGE
My eCharge allows the all-new 500 «la Prima» Cabrio passengers to enter a world of services for the management of the electric charge. With the FIAT app you can easily find public charging stations nearby and access features for charging, payments and tracking charging history. At home you can quickly access your private Wallbox and, thanks to the remote management, get the most out of your connected Wallbox.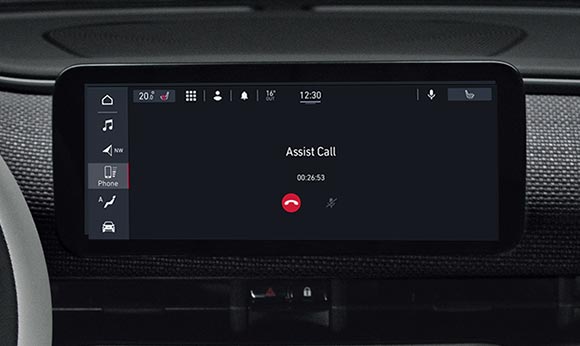 MY ASSISTANT
My Assistant keeps you safe wherever you go. The all-new 500 «la Prima» Cabrio is able to make emergency calls through a ceiling light*, to contact a dedicated assistant or to request roadside assistance, directly from the vehicle's touchscreen or through the FIAT app.
* The emergency call is not available from the vehicle's touchscreen or through the FIAT app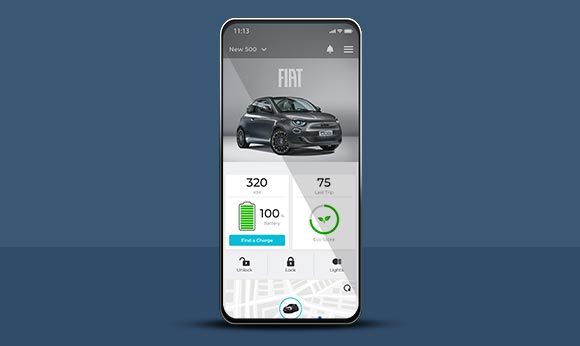 MY REMOTE
With My Remote you can locate the position of the all-new 500 «la Prima» Cabrio directly from your smartphone - and that's not all. From the mobile app you can also lock and unlock the doors, check the charging level and schedule the Air Conditioning and the vehicle charging.
Moreover, with the voice assistance service 'At-Home Digital Assistant', you can interact with your vehicle remotely.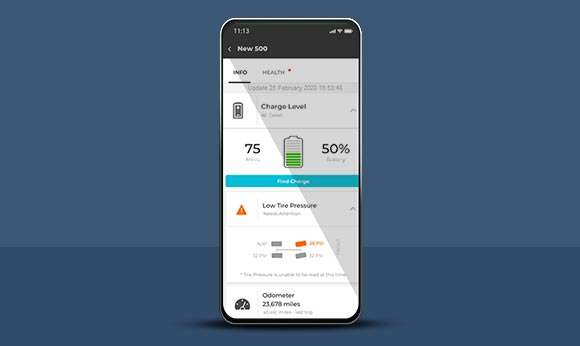 MY CAR
Are you wondering what's happening under the bonnet? No worries - with My Car you can access real-time information about the status of your city car. Tyre pressure, odometer, maintenance updates - just open the FIAT app or check your radio display. The all-new 500 «la Prima» Cabrio has nothing to hide.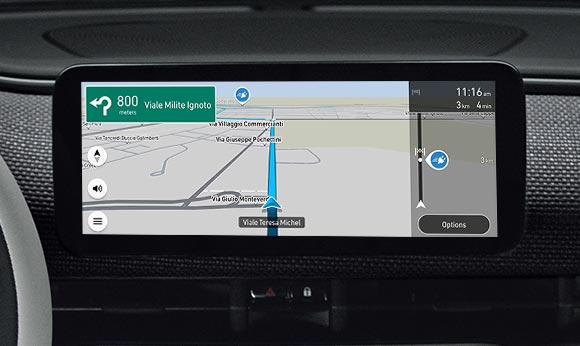 MY NAVIGATION
Reaching your destination has never been so easy. With My Navigation you can share the destination from your FIAT app and your vehicle with a simple tap. The infotainment display of your 500 «la Prima» Cabrio instantly shows your destination, with live traffic, weather updates, speed camera notifications and point of charge. Your maps are constantly updated for a seamless, frictionless journey.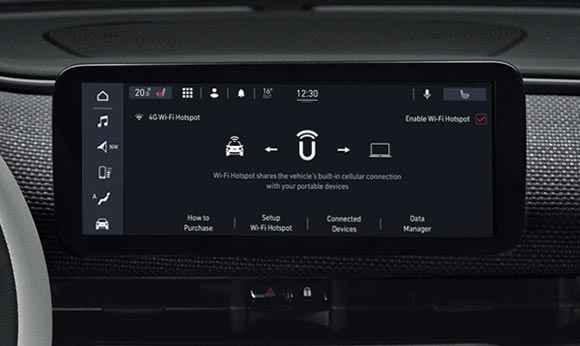 MY WI-FI
With My Wi-Fi, you'll be as comfortable on the road as you are at home. With My Wi-Fi service, the 500 «la Prima» Cabrio becomes WI-FI hotspot that enables you to connect up to 8 devices. Thanks to a free trial period, your travel companions can surf online, listen to and stream content, work in comfort, and also use the Amazon Alexa Voice Service* on board.
*This service is available in Italian. Available in other languages (English, French, German and Spanish) at the beginning of 2021.
Amazon, Alexa and all related logos are trademarks of Amazon.com, Inc. or its affiliates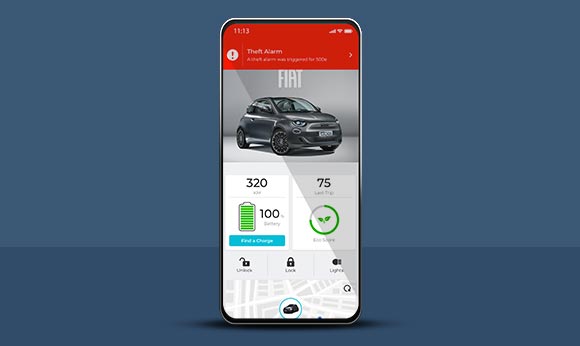 MY ALERT
If a problem should arise in your vehicle, you will instantly receive push notifications on your FIAT app, alerting you to what has happened. In the case of theft, you will be put in contact with an operator and your car will be tracked to help the police rescue it*.
* My Alert is an optional service on the new 500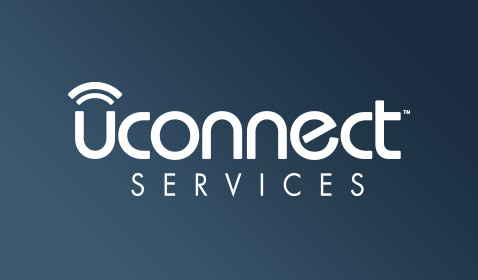 UCONNECT™ SERVICES
Your New Fiat 500 is always connected, thanks to Uconnect™ Services: the connection suite dedicated to safety and remote control of your car's main functions.
WALLBOX AND ACCESSORIES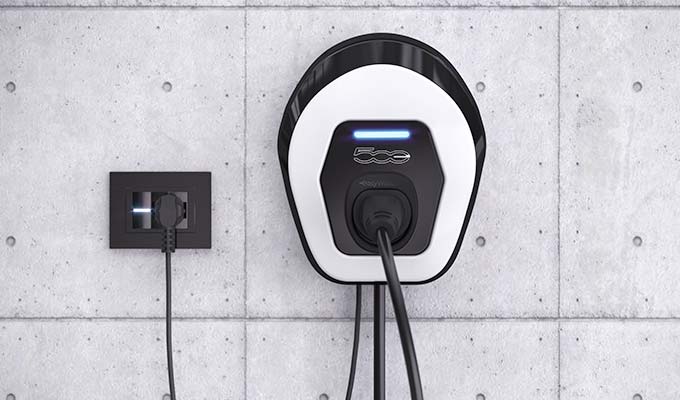 EASYWALLBOX
The quickest and simplest way to charge your new 500 «la Prima» at home.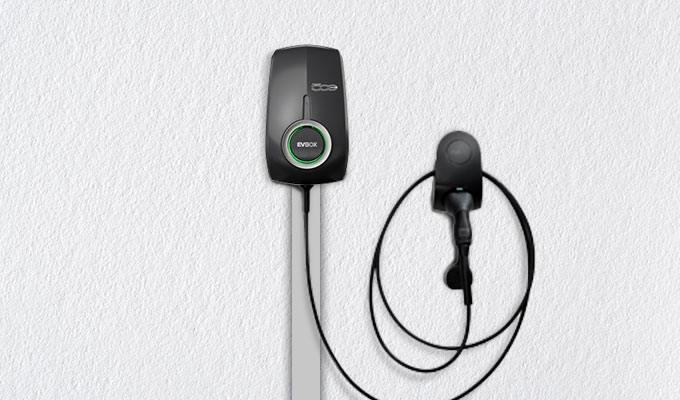 CONNECTED WALLBOX
Charge your new 500 with remote connectivity: works with Wi-Fi, 4G/3G and Bluetooth.
ACCESSORIES PACKS
Follow your passions. Personalise your cars with one of our packs: Fashion, Ethics & Aesthetics, Techno Sport or BeProud.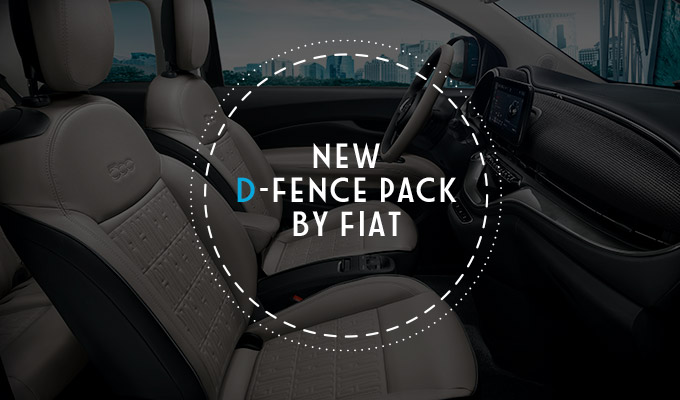 D-FENCE PACK
The D-Fence Pack contains the Prime Cabin filter, which traps almost 100% of allergens and dust, an Air Purifier with an integrated HEPA Filter, which removes up to 98% of airborne bacteria, and a UV Lamp that eliminates bacteria by up to 99%.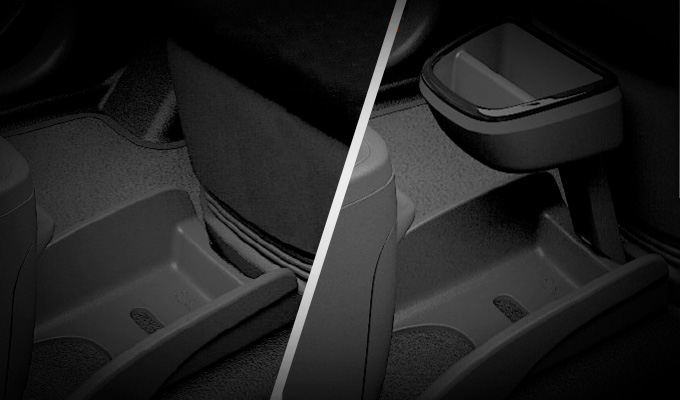 TUNNEL SPACE ORGANIZER
You can customise the central tunnel according to how much space you need. Just choose between Base Organiser or Multi Basket.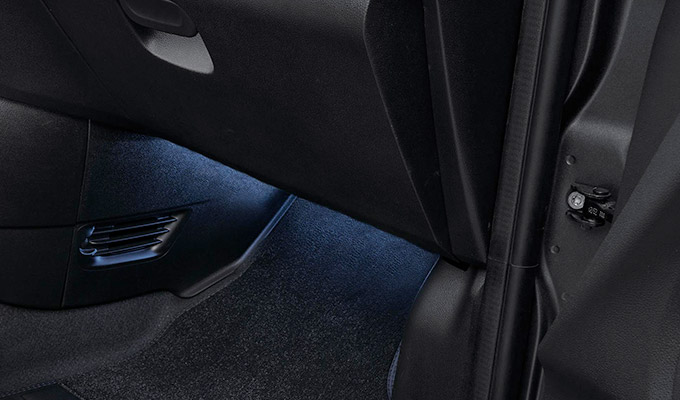 LIGHT CUSTOMISATION
Install protection for the interiors, with an extra touch of style and ambient light thanks to the Illuminated Door Sill Plate.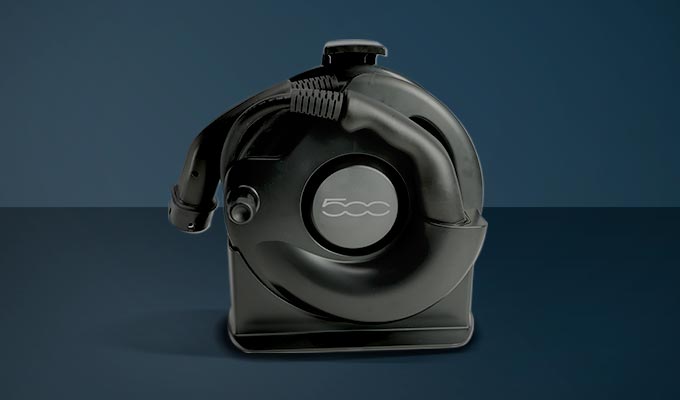 CABLES ORGANISER
Keep your charging cables well organised in the boot; simply choose between a Cable Bag or Cable Reel.
500 ICON 500 PASSION
500 ICON
Brand new 10.25" infotainment system with navigation
Passive entry with wearable key
Exclusive interiors containing Seaqual Yarn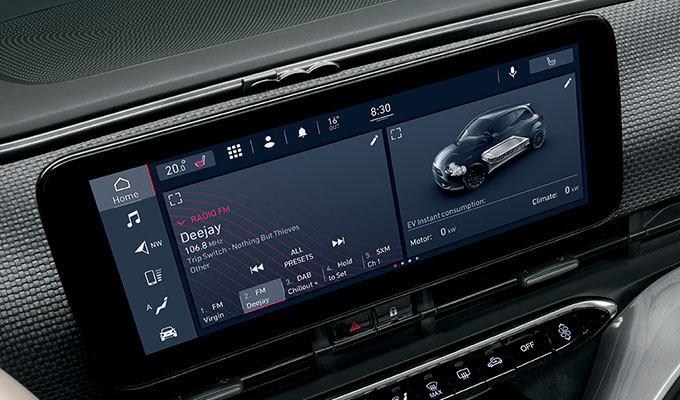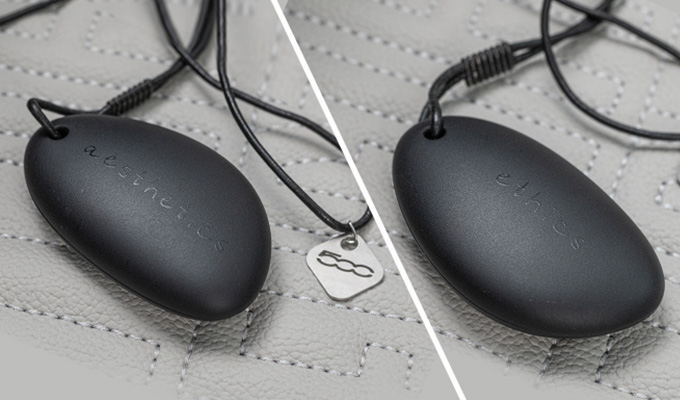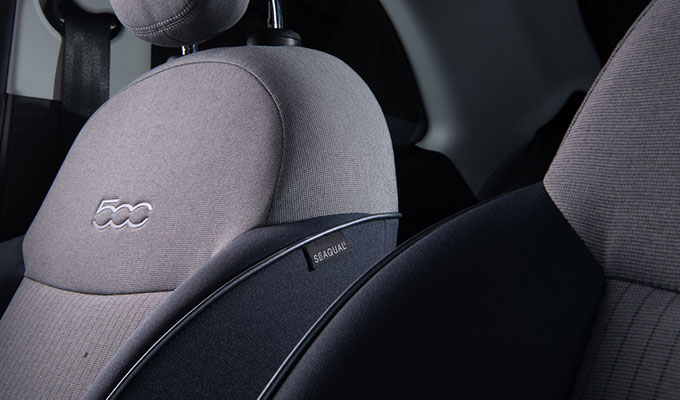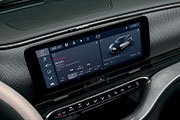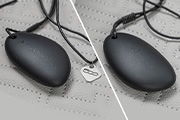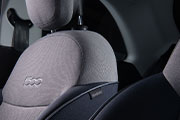 500 PASSION
wireless Apple CarPlay / wireless Android Auto™
Connected services
Fast charge (85kW)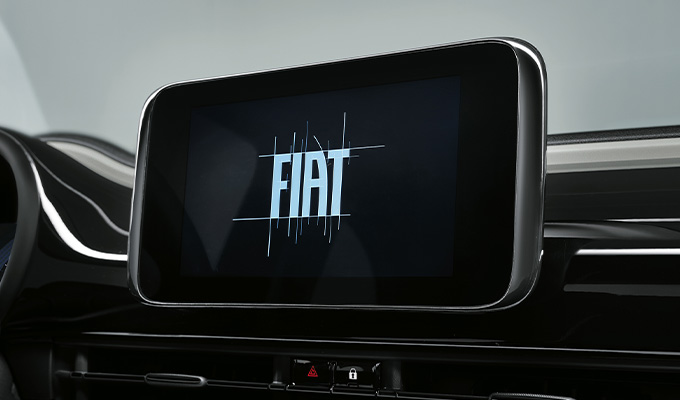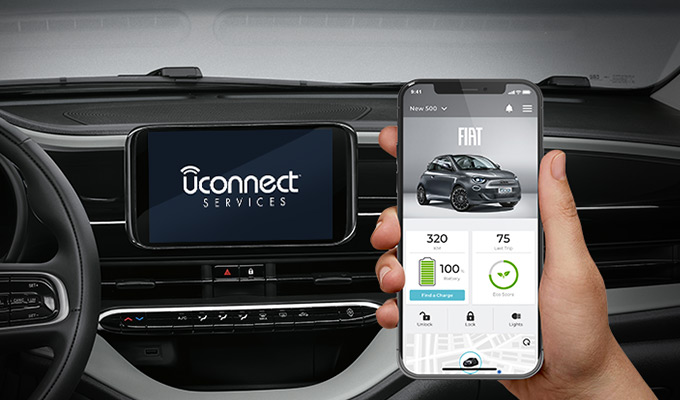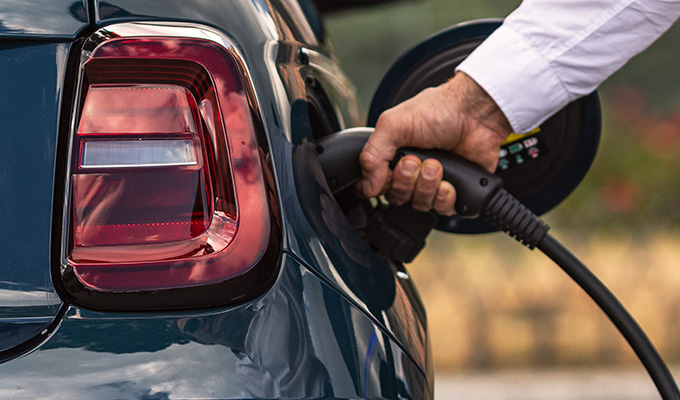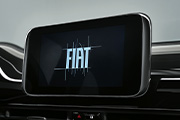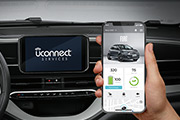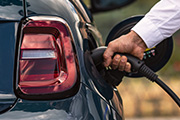 Final specification may vary. First Customer deliveries expected late 2020 / early 2021.
*These figures were obtained after the battery had been fully charged. The New Fiat 500e La Prima is a battery electric vehicle requiring mains electricity for charging.
There is a new test for fuel consumption, CO2 and electric range figures. The electric range shown was achieved using the new test procedure.
Figures shown are for comparability purposes. Only compare electric range figures with other cars tested to the same technical procedures.
These figures may not reflect real life driving results, which will depend upon a number of factors including the starting charge of the battery, accessories fitted (post-registration), variations in weather, driving styles and vehicle load.